Mariposa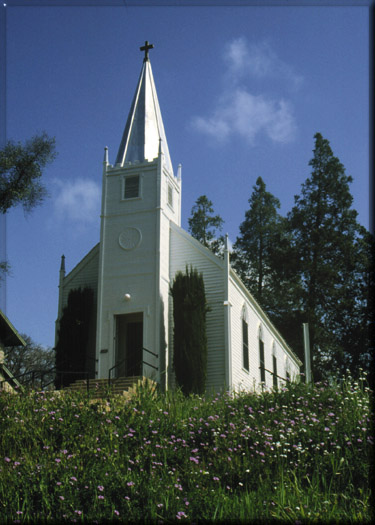 St. Joseph's Catholic Church
St. Joseph's Catholic Church is located on a little eminence overlooking the south end of Bullion St. Its elegant design and typical New England steeple make St. Joseph's one of the area's most familiar and photographed landmarks.
The land upon which St. Joseph's rests was donated by R. S. Miller and Alex Deering, who were operating the Mariposa Mine located directly behind the church. Construction began in the fall of 1862 under the direction of Father Auger and was completed that same winter. The church was dedicated by Archbishop Joseph Sadoc Alemany on January 18 of 1863, and is still in use today.
St. Joseph's was the first permanent Catholic church in Mariposa County. Prior to its construction, Catholic priests saw to the miners' spiritual needs wherever they could find a meeting room, or in temporary churches, otherwise known as tents. The church, rectory, and cemetery are all listed on the National Register of Historic Places.
Return to Mariposa