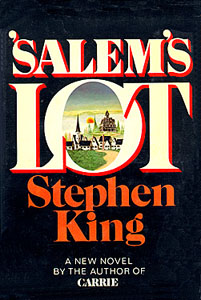 Jacket Art by Dave Christensen

'SALEM'S LOT

---
by Stephen King

"They're in those houses," Mark said tightly. "Right now, in all those houses.
Behind the shades. In beds and closets and cellars. Under the floors. Hiding."
---
Ben Mears returned to 'Salems Lot—a small New England town complete with white clapboard houses, tree-lined streets, and solid church steeples—hoping to write a novel, a novel that just might put to rest what had happened to him in the old Marsten House when he was a boy.



Unfortunately for Ben (and most of the town, for that matter), a nasty, blood-sucking vampire has arrived in the Lot, and taken up residence in the old Marsten House.
Dedication:

For Naomi Rachel King "...promises to keep."

Firstline:

Almost everyone thought the man and the boy were father and son.

Cast of Characters:

Kurt Barlow - Nasty, blood-sucking Vampire.
Jimmy Cody - A young doctor.
Danny Glick - Boy vampire.
Hubert Marsten - Previous owner of the Marsten House.
Ben Mears - Writer.
Susan Norton - Ben's girlfriend.
Mark Petrie - One of the few survivors, "adopted" by Ben Mears.
Richard Throckett Straker - Barlow's human emissary.

Publication States:

Trade HC: Doubleday (1975)
First Info: On CP, "First Edition."
Trade PB: Signet (1976)
First Info: On CP, "First Signet Printing, August 1976."