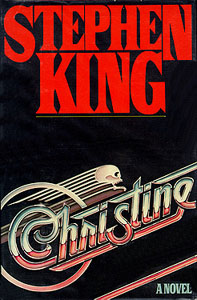 Jacket Art - Craig DeCamps

CHRISTINE

---
by Stephen King

"The Plymouth hit him squarely, still accelerating, breaking Moochie Welch's back and knocking him spang out of his engineer's boots."

---
Time: 1978



Scene: a middle-class suburb of Pittsburgh.



Enter: Little Arnie Cunningham, a bookish and bullied senior at Libertyville High; Dennis Guilder, his friend; Leigh Cabot, the new girl in school, and Christine, Arnie's dangersous obsession.



First off, let me tell you. Christine's tough, a real moving unit, but she ain't no Lady. She's a 1958 Plymouth Fury, a white-over-red two-toned finned survivor of a time when high-test gasoline sold for a quarter a gallon and speed was king. She's also alive and mean, a real killing machine, and it doesn't take long for people to start dying on the dark, suburban streets of Libertyville, U.S.A.
Dedication:

This is for George Romero and Chris Forrest Romero. And the Burg.

Firstline:

This is the story of a lover's triangle, I suppose you'd say—Arnie Cunningham, Leigh Cabot, and, or course, Christine.

Cast of Characters:

Leigh Cabot - Arnie's girlfriend.
Arnie Cunningham - A nerd with acne. Owner of Christine.
Roland LeBay - Sold Christine to Arnie.
Dennis Guilder - Teller of the tale.

Publication States:

Trade HC: Viking Press (1983) - True First Edition
First Info: On CP "First published in 1983 by Viking Press."
Limited HC: Donald M. Grant (1983)
Lettered state
Numbered state: 1-1,000
Trade PB: New American Library/Signet (1983)
FirstInfo: On CP, "First Signet Printing, December, 1983. "1 2 3 4 5 6 7 8 9"